Customized Acrylic Calls
The Deadshot Custom Call Company has created a business model that allows anyone the ability to afford a high-end, fully customized, durable acrylic duck, goose, or other styles of game call.  In addition to offering high-end calls with low- end pricing, your call will be unique to only YOU!  You get to choose the barrel color, band color, color and type of insert (double or single reed, timber or open-water), etc.  The options are endless so feel free to take a look at our gallery of calls below!  If you don't find something you like we can custom create it for YOU!
CUSTOMIZED ACRYLIC CALL PRICES
In stock calls (standard barrel)                                                                     $100
Custom Pour w/out Inclusion                                                  $125
Custom Pour w/Inclusion                                                        $150
Deadshot Image Call Series      $150
Deadshot Snuff Series        $150
Deadshot Custom Acrylic Inserts       $25
Barrel Inclusions (marsh grass, bird band, dog tag, etc)          $10
Custom Engraving                                                                    $20
Shipping                                                    $5/call or $10/2+ calls
Tax                                                                              6.5% in MN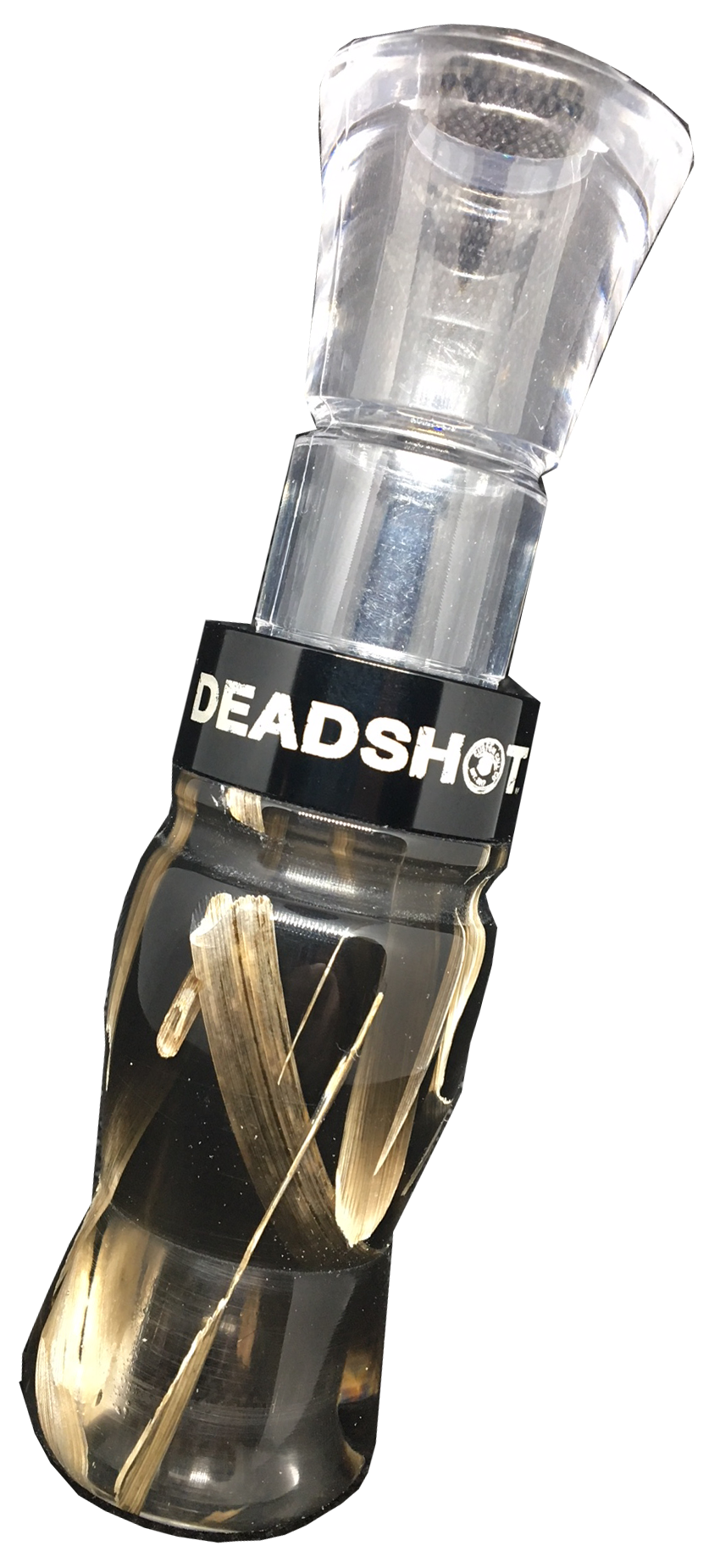 Frequently Asked Questions
Am I able to design my own call with my choice of color(s) and shape?
Yes!  This is what the Deadshot Custom Call Company is all about…YOU!  No longer do you need to purchase mass produced calls that come in a limited choice of colors and shapes.  Most companies offer a choice of 4-5 shapes and in standard colors.  Deadshot offers you the ability to create a game call that NO ONE ELSE has on their lanyard!  Its a fun process to be a part of!
One fun example:  We recently custom created a Deadshot Crew Pack of calls for a hunting group!  This hunting group wanted 7 calls with the same color scheme, insert, band, etc.  The entire package was really fun for us to make and now each of their members has a call that is limited to their hunting group!
Do you cast your own acrylic blanks?
Yes!  Here at the Deadshot Custom Call Company we cast 90% of our own blanks.  Not only does this save you time in recieving your fully customized game call but it also allows us the opportunity to fine tune the additions of your requests.  Whether its adding real marsh grass in a clear or dyed call blank or choosing the favorite colors of your sports team we can create nearly anything for you!
How long do I have to wait to recieve my new call?
Great question!  Typically, depending on demand, we are running about 2-3 weeks from time of ordering.  Some custom calls have gone out the same week while others need time to be created with our proprietary casting process.  We often source items from other companies if we do not have the available product in-stock.  This can add to the wait time but generally you will have your new call within 2-3 weeks of ordering…sometimes sooner!
What kind of inserts do you use on your calls?
Another great question!  This is one we get asked alot.  We ONLY use Echo brand inserts in all of our duck/goose calls.  We have experimented and field tested other inserts that are offered by other companies but these have surpassed all of our expectations for sound, wear, style, durability, and re-tuning!  This also keeps the cost of your call down.  We can create a custom acrylic insert for our customers yet the business model is to sell you a high-end call at low-end pricing!
We offer several different choices for insert colors and sounds.  From screaming your loudest hail-call through an open-water insert, to chattering a sharp feeder call on a timber insert, the choice is yours.  Open-water inserts will allow you more volume yet timber inserts are softer and allow for more detailed calling tones especially when finishing your birds.
Our goose calls also feature Echo goose inserts. These inserts come in clear or black and look great in all of our 100% acrylic call barrels.  Not only do they look great, they sound great too!
Where are you located and why is Deadshot your name?
We are located near Detroit Lakes, MN.  The name of the Deadshot Custom Call Company was born in Detroit Lakes due to our Big Detroit Lake and Little Detroit Lake.  This lake holds what is known to the locals as "Deadshot Bay" which is located on the south western side of Big Detroit Lake.  This bay was often used by many waterfowl hunters in the past so this is how our name was created.
How much do your calls cost and do you allow for custom engaving?...and how about adding other items in the barrel?
Our calls are very affordable and competitively priced!  Our calls start at only $75 for in-stock standard calls, $115 for a custom poured call 100% and only $125 for a custom poured call with one inclusion!  A custom poured barrel can be made out of any color you choose and depending on size we can incorporate many types of small inclusions.  Should you wish to add marsh grass or other other materials into your barrel we only charge an extra $10 for this service as the production time is slightly increased. Custom engraving would be considered a Deadshot upgrade and would add a nominal fee to your new customized call. This adds only $20 to the cost of your call yet the price of this one time addition is very popular among our customers.
Why are you selling these calls for such a minimal cost?
Another great question!  This is what our business model is based on!  To allow ANYONE the ability to afford a quality, custom created, game call.   Pure and simple…our passion is waterfowling.  We have been hunting birds since we were about 14 years old.  Thats nearly 33 years of enjoying this sport and what the sport has offered us for creating lasting memories and excellent hunts.  We will continue to support anyone who wants to get into this sport and will make it easy for them to afford one of the most essential tools they will need to use…their call!
Lets be fair, many companies have now entered the range of $125-$225 for their calls.  Those calls are good calls and we at Deadshot also support our competitors.  However, any experienced caller should be able to tell you that it is not just your call that will bring birds into your spread.  Motion is also key to your success!  Your call will allow you the opportunity to turn the birds attention towards you yet if all you are doing is calling and calling it simply will not be effective.  Your call will also aid you in making birds feel more comfortable when nearing, or landing, in your spread.  Lets face it…late season ducks have heard almost every type of call from all levels of experience!  They have also seen all types of decoy sets…from cheap to very expensive.  Birds are becoming more educated on our tactics so why put so much money into just one of the many components of the hunt?  Put your hard earned money into a call that is unique to only YOU and sounds the same, some say they sound better, than many of the mass produced calls available at retail sporting goods stores or online sites.  The CHOICE is YOURS!